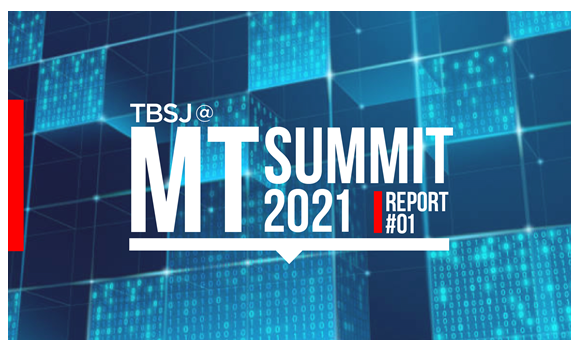 In late August, representatives of TBSJ were excited to attend MT Summit 2021, the 18th global biennial event for users, providers, and researchers of machine translation (MT). Held virtually, the five-day conference was attended by some of the biggest names in the industry including about 700 academic, industry, and government specialists in MT from around the world.
Via some 100 presentations and workshop discussions from fellow MT practitioners at global enterprises, translation technology providers, and top-tier universities, TBSJ's Paul O'Hare, CTO and co-founder, and Yury Sharshov, chief scientist, gained valuable knowledge. It also stimulated them to consider the position of TBSJ in this rapidly developing field.
New research and use cases demonstrate that we are not only on the right track in this cutting-edge industry, but are already implementing or about to implement some of the newest technologies discussed at the summit. While keeping up to date with MT developments, the pair joined several networking sessions to participate in interesting discussions and share updates of TBSJ's progress in MT, including news of a newly released tool.
Staying ahead of what is going on in MT is important to TBSJ. As a Japan-based company specializing in the challenging Japanese–English language pair and four niche sectors (financial, legal, pharma, and creative), we know how critical it is to leverage MT effectively. Inappropriate use of MT, or relying on MT alone without the input of human specialists, will not allow for high-quality translation output, even for closer languages or general topics.
Coming up
In a series of articles over the next fortnight, Paul and Yury will introduce their key takeaways from the conference and attempt to draw some conclusions on what they mean for TBSJ and the translation industry.
Topics covered will range from the current use of neural MT technology and other industry trends, to the effective evaluation of MT output quality, both by automated tools and experienced linguists. The pair will also share the industry's thoughts on the future of MT, including innovative multi-modal technology (where other data, in addition to source and translation texts, are used to train engines), and offer practical advice on how MT should be implemented in-house.
Finally, the pair will address the most important aspect of MT: people. Human input is the backbone of this ever-evolving technology, from the technologists who train the engines and manage data, to the translators who refine output, provide feedback to improve tools, and hone texts. As MT developments continue, they will consider the role that people could—and should—play.
Both quality and people are core components of TBSJ's DNA, which is reflected in our approach to MT. It is only by involving highly skilled translators and technologists in MT processes that we can achieve top-quality end results. Over the next couple of weeks, Paul and Yury look forward to sharing how and why MT is helping companies achieve this goal.
Stay tuned on our website and social channels.