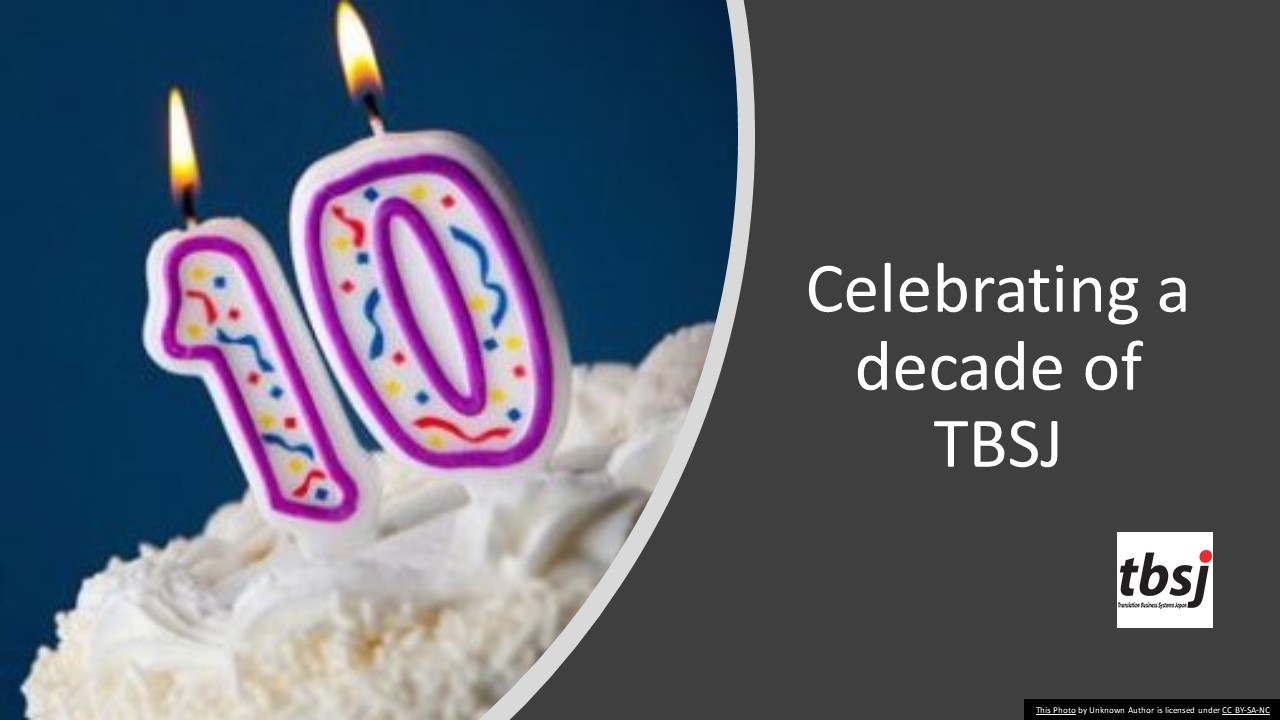 A decade of operations is a celebration for any company, but for TBSJ, which was launched with a handful of core full-time team members, it's particularly special. The milestone is an indicator of our success and of how far we've come from our early days, as well as an opportunity for us to reflect and look to what the future holds.
TBSJ was born in 2010, when four individuals came together to co-found a new kind of translation firm. Their vision was a business that would hire only the best translators to ensure a top-quality service for clients. It was an extreme departure from the agency model prevalent at the time whereby hundreds of translators received work requests but only the cheapest was chosen for the task, often leaving clients with disappointing results.
Matthew Heaton, co-founder and CEO, says the goal was to create a company that would put people first; clients could experience great service and staff could enjoy roles that offered professional opportunities without sacrificing personal needs.
From the outset, we were a 24-hour operation, allowing staff in the London or New York offices to take over or start projects as Tokyo business hours drew to a close, and vice versa. It proved not only better for staff, as it gave them greater flexibility in their working hours, but also better for clients. If a translation was needed urgently, it could be delivered, even overnight. Today, that approach is part of our DNA.
"People don't have to choose between a professional job and something that's important in their private life, whatever that may be," says Matthew, pointing out that the TBSJ team includes those who have relocated from Tokyo to other regions to care for elderly parents and those who log off at 3pm to do the school pickup.
Danielle Igbinosa, head of the financial translation team, is among those who has experienced firsthand how accommodating the firm has been. Since joining the team in 2011, she has had a number of life changes including relocation from Tokyo to her native Australia, having a child, and moving house, all while taking on growing work responsibilities.
By retaining and attracting talented translators to our ranks, we have been able to offer clients peace of mind about quality and to invest in building technology that supports translators to work even better.
The backbone of TBSJ "has always been relationships and technology," says Paul O'Hare, co-founder and CTO. Since launching the business, efforts have focused on project management systems and translation tools. Now, Paul expects TBSJ's next decade to be driven by translation tech, such as Leveraged AI (LAI).
Developed by TBSJ's translators and tech experts in the past two years, the innovative system combines the best of man and machine to deliver next-generation translation. Tailor-made computer-aided translation tools, translation memory, and AI engines deliver translations based on clients' existing content before bilingual subject matter experts review and polish each sentence to perfection.
Matthew says the launch of LAI is a hugely exciting time as we enter our 11th year of business. "What our tech team has achieved with a small amount of resources compared to our competitors is amazing," he says. "I've every faith that we will put this tech to work in great ways using our 10 years of experience in the industry."